-97%
🔍
Jose Rosado – 10 Year Shortcut
💲Official Price: $499
🤟Our Price: $15.99
🚚Product Delivery: You will receive a download link in the mail or you can find your all purchased courses under the My Account/Downloads menu.
Description
Jose Rosado – 10 Year Shortcut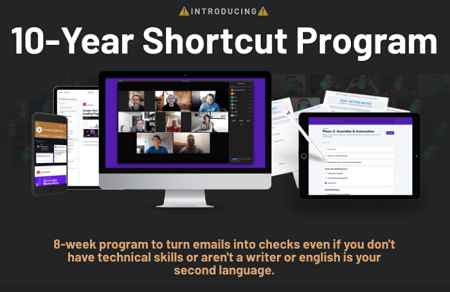 Jose Rosado – 10 Year Shortcut | 7.95 GB
Here's a small peek of what's inside
Strategies to build a respected online brand.
How to create highly lucrative digital products with ease.
Why saturation is a myth and why this is the best time to build an online brand.
A straighline strategy to launch and promote your digital products with our "plug-and-play" system and templates.
How to build a cult following so people who follow you stay even when you're promoting your products like crazy.
How to write effortlessly to get results 10x faster
Buy Jose Rosado – 10 Year Shortcut at $15.99
Plan Your Funnel
Wait.. WFT is a funnel? It's the steps you potential clients take to become clients.
Get it right the first time.
Week 3-4:
Build Your Funnel
Automate the boring parts.
​The quickest and easiest way to start with email marketing using a professional state-of-the-art tool
Examples of emails I send to my list with explanations about the psychological principles I use in each email. (Feel free to use them as inspiration)
​How to create a landing pages that convert without being a professional designer

Simple ways to automate scheduling and following up on your sales meetings
Week 5-6
Launch Your Funnel
Get people into your system.
How to self-promote even if you hate self-promotion
​How to generate leads quickly 
​Simple ways to use DMs to make money
​A proven system to create endless amounts of content that attract potential customers willing to buy.

Week 7-8:
Sell Like Crazy
Close deals like never before.
​Increase your fees with confidence
​The Barely Legal $100K Sales Script that I use to close deals fast
​​A clear explanation of how to conduct high-ticket sales call – the kind that gets your prospect to reveal their deepest secrets to you and get you paid
​​How to get paid on the phone
Only logged in customers who have purchased this product may leave a review.