-90%
🔍
Justin Simon – Content Repurposing Roadmap
💲Official Price: $149
🤟Our Price: $14.99
🚚Product Delivery: You will receive a download link in the mail or you can find your all purchased courses under the My Account/Downloads menu.
Description
Justin Simon – Content Repurposing Roadmap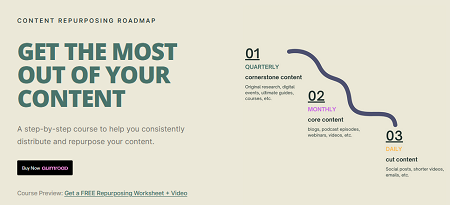 Justin Simon – Content Repurposing Roadmap | 1.43 GB
CONTENT REPURPOSING ROADMAP
grow your audience, ditch the old-school mindset, and make a bigger impact with your content
Get the step-by-step frameworks you can use to consistently get your content in front of your audience.
Content Repurposing Roadmap is a totally new way to build and grow a content marketing engine
You can 2x, 5x, or 10x your views, readers, and revenue. All with existing content you have sitting around.Avoid another year of spending time on content that no one sees or reads. Now's the time to get a content distribution system that's easy to manage and drives consistent, high-quality flow of traffic and leads to your business.
WHAT'S IN CONTENT REPURPOSING ROADMAP?
Proven frameworks: Audit your existing content to discover what's worth repurposing (with step-by-step instructions). Learn the three types of content you need (with real-life examples). Build a distribution doc library (with the exact template and framework I use every single week).
Instant results: Stop staring at a blank screen. Go from having no plan to a full distribution calendar in less than a week.
Everything to start: Full video lessons, detailed examples, and fill-in-the-blank templates.
You'll live on the content creation hamster wheel
You'll waste time and energy
Your best content dies on the vine.
You'll miss out on the majority of your audience
You'll keep doing "spray and pray" distribution
You'll keep being reactive instead of proactive
Buy Justin Simon – Content Repurposing Roadmap at $14.99 only!
Only logged in customers who have purchased this product may leave a review.