-99%
🔍
Smart Social with Laura Palladino
$1,497.00
💲Official Price: $1497
🤟Our Price: $11.99
🚚Product Delivery: You will receive a download link in the mail or you can find your all purchased courses under the My Account/Downloads menu.
Description
Smart Social with Laura Palladino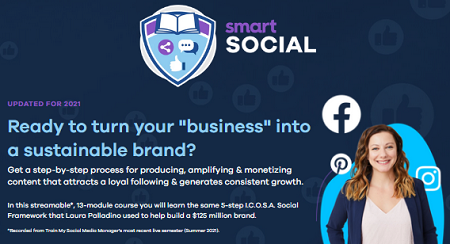 Smart Social with Laura Palladino | 22.1 GB
Ready to unlock the next level of scale?
Social is the key.
You might be wondering, "Is social media still relevant to a modern digital brand?"
Social isn't just relevant; it's probably the most important part of a sustainable marketing strategy, and it's usually the missing piece of the puzzle for brands that have plateaued and want to reach the next stage of growth.
A solid social strategy will help you:
Make Facebook your friend.
Did you know social sites don't like you taking users off their platforms? That's why they make it so hard to scale those ad-to-offer campaigns you run to cold traffic. So instead, use our Engage & Filter Method to segment your fans with content (which social sites love) then monetize them with offers. That's how we dropped our CPA by 50% and got 2,000,000 free impressions.
Stand out from the competition.
The more crowded the marketplace gets, the harder it becomes to offer a product or service that's truly unique. Most competitors can match you on price, shipping and features, but if you use content to establish your authority in the marketplace and build a community of loyal fans — like BOOM!'s 355,000 Facebook fans and 700,000-person email list — that's something they can't copy.
Future-proof your brand.
A brand without content is just a "business", and a business can stop working at any time: they have no way to get repeat purchases or grow a customer base, making them vulnerable to platform updates and algorithm changes. A real "brand" has a strong email list, authority in their market, and a community of loyal fans who buy their products again and again. This makes them practically bulletproof to changes in the marketplace.
Supercharge every part of your marketing.
The results of good social marketing don't stop at your Facebook page; it helps every part of your business including your ads, emails and website. These all rely on a stream of fresh content, and a good social strategy produces those for you. Not only did BOOM!'s social generate $2.4 million in directly attributable sales, it also provided the content for our most profitable ad and email campaigns.
Only logged in customers who have purchased this product may leave a review.