-100%
🔍
The LinkedIn Method Academy – Melissa Henault
💲Official Price: $3985
🤟Our Price: $8.99
🚚Product Delivery: You will receive a download link in the mail or you can find your all purchased courses under the My Account/Downloads menu.
Description
The LinkedIn Method Academy – Melissa Henault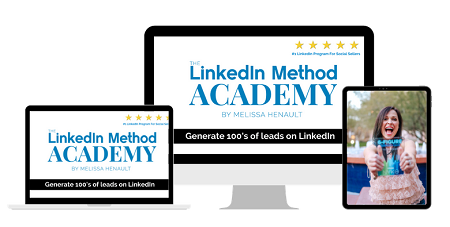 Melissa Henault – The LinkedIn Method Academy | 62.2 GB
HERE'S THE PROBLEM:
You're spending WAY too much time on social media looking for clients and business partners.
You're spending WAY too little time in direct conversations with like-minded professionals who would actually love to hear about the business opportunity or service you have to offer.
I see so many painstakingly trying to drag potential clients through the sand when they have no real interest wasting time and creating tension in your business.
We teach an "Ick-Free" solution to social selling.
We take away all the spammy tactics you've been taught on other social media networks and teach how to position yourself as the professional business owner that you are.
We will teach you how to:
✔︎ Professionally build your business brand on Linkedin™
✔︎ Create an ideal network of potential clients
✔︎ Create massive momentum and a funnel of calls with humans who are excited to learn more about what you have to offer.
High-touch coaching, a dynamic community, ongoing live training, built-in checkpoints, monthly group coaching calls, weekly office hours, and more will support your 6-month journey to owning LinkedIn™.
THIS IS AN ALL-INCLUSIVE PROGRAM, NOT A COURSE.
Only logged in customers who have purchased this product may leave a review.